(IT)  Moka – la caffettiera con l'anima:  Tutte le famiglie italiane ne hanno almeno una in cucina.  Sto parlando della piccola caffettiera Moka disegnata dall'imprenditore Alfonso Bialetti nel 1933 e  tutt'ora in vendita.
Il brevetto del sistema "Moka" prevede unicamente questa forma con base ottagonale, ma in commercio esistono tantissime imitazioni e variazioni di ogni forma e colore.
Perché si chiama così?
Ve lo siete mai chiesti? L'origine del nome della macchinetta  viene dal nome della città di Mokha in Yemen, una delle prime e più rinomate zone di produzione di caffè, in particolare la pregiata qualità arabica.
Simbolo italiano
Elegantissima, futurista, famosa in tutto il mondo, la possiamo trovare nella collezione permanente della Triennale di Milano, in quella del MoMA di New York e …nella mia cucina!
Oggi la Moka è riconosciuta in tutto il mondo come icona del Made in Italy ed è uno dei soggetti più fotografati su  Instagram.
È democratica, semplice e funzionale, dura decenni e costa pochissimo.
Ogni mattina quel borbottio e quel profumo di caffè così familiare ci avvolgono come un abbraccio rendendoci misteriosamente felici.
Solo  uno sciocco potrebbe credere che si tratti di un oggetto inanimato!  (Adattato da R. Mura)
(EN) Moka – Coffee maker with a soul
All Italian families have, in their kitchens,  at least one  Moka, the iconic Italian  coffee maker used to make coffee at home .
It is an example of modern and innovative  design , a symbol of Italy worldwide.
It was designed and created by entrepreneur Alfonso Bialetti in 1933.
A symbol of Italy
An example of Italian design, wth its elegant, slim and unique shape  you can find the Moka on display at the famous Triennale in Milan as well as at MoMa museum in NY and…in my kitchen too, of course !
It is one of the most photographed subjects on Instagram!
Moreover, it is simple,  practical and lasts for decades!
An Italian Ritual
To make coffee with this little "caffettiera" is an Italian habit, or even more, a ritual , comparable to the English tea ritual.   If is not possible to make coffee at home, Italians go to the Bar as they  are, generally speaking, coffee-addicts.
Caffè and Cornetto are two additional symbols of the Italian way of life.   How much is a coffee in Italy?    With a few exceptions, coffee is a very "democratic"drink, it costs around 1 €.
And how much is the Moka coffee maker?   That too is quite inexpensive and can be bought in elegant shops as well as in supermarkets or open markets.    You may find the original one with the patent Bialetti and the typical octagonal design, as well as numerous imitations that also come in many different colours and shapes.
Why the name?
Have you ever asked your self the question?  It takes its name from the city of Mokha, in Yemen, renowned for the production of the best quality of coffee: the Arabic coffee.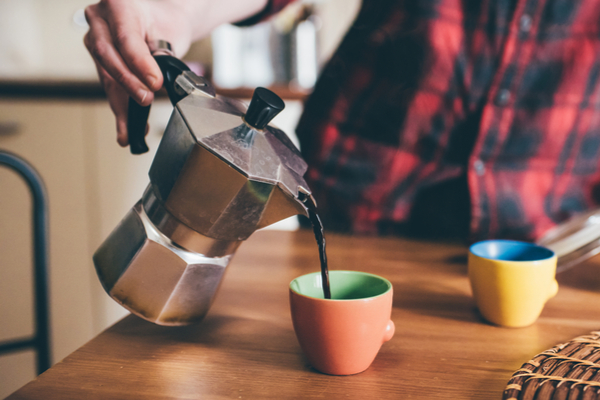 Every morning,  the  familiar mumbling sound and the unmistakable scent of coffee surrounds you as a hug .
Only a fool could think of it as just a lifeless  kitchen appliance!