(IT) – Passeggiando in Bicicletta
Il profumo è di legno appena tagliato e resina di pino. Quando il vento soffia tra i rami degli alberi  il profumo si mescola all'odore del mare.
Passeggiando la mattina in pineta in  bicicletta, prima che il caldo delle giornate diventi eccessivo, vi porto con me.  Il percorso in bici è di quelli rilassati, da bicicletta fuori moda con le ruote grandi, senza nemmeno bisogno del cambio. In realtà il percorso può essere fatto in modi diversi ed incontrerete ciclisti in assetto di gara e pensionati in ciabatte…Insomma è per tutti i gusti e per tutte le attitudini.
Oggi, per venire con me, Il casco non è necessario; sì…quella tipa col cappello di paglia che vi aspetta sono io.  Avete già capito che sarà una vera passeggiata in bicicletta.
Dove ci troviamo?
Ci troviamo all'entrata della Riserva Naturale del Tombolo, a Marina di Cecina (Livorno). L'ingresso è proprio lì, dove vedete quel grande cancello di legno.  La riserva è un esempio di biodiversità.   Sono 10 KM da Cecina a Bibbona e ritorno.
All'inizio forse incontriamo un po' di gente , sulla sinistra dove c'è la piccola area attrezzata per l'esercizio fisico ma, vi garantisco che andando avanti ci si immerge davvero in un bosco profumato e si fatica a parlare, non per il rumore dei turisti, ma per il suono assordante delle cicale.
E' la musica dell'estate, e io l'adoro.  Lo sapete che in Italiano questo rumore si chiama "il  frinire delle cicale"?
Vento e Pini Marittimi
Pedalando senza fretta si arriva fino alla spiaggia di Marina di Bibbona.    Lungo il cammino si superano dei ponticini e ci si può fermare dove si vuole per raggiungere il mare.   Le aperture, come corridoi naturali sulla nostra destra, sono tante e non hanno bisogno di indicazioni.   Basta guardare il blu improvviso che appare tra le larghe cime verdi dei pini  marittimi.
Vedete le loro forme? Sono tutti curvati verso l'interno. I venti marini qui soffiano con prepotenza e gli alberi hanno dovuto piegarsi al volere della natura per sopravvivere. Il vento e gli alberi, come in una coppia, splendido esempio di compromesso.
Radici & aghi di pino
Fate attenzione al terreno: sia che siate in bici , sia che scegliate di venire qui a camminare, il pavimento della pineta è attraversato da enormi radici che sollevano la terra , quasi fossero in continuo movimento.  Gli aghi di pino, secchi e rossicci, lo ricoprono come un mantello, ovattando passi e rumori, quasi fosse neve.
Il mio Rifugio
Questo percorso in bici, in questa pineta è, da tempo immemore, il mio "rifugio". Qui sono venuta bambina a raccogliere pinoli, qui ho imparato ad andare in bicicletta, qui sono state prese alcune delle decisioni più importanti della mia vita, qui ho portato solo chi ha contato veramente e qui vengo con chi amo e ho amato ma non c'è più.
Sospetto che questi ultimi in realtà ci siano, ben presenti, ogni volta che torno da sola, come adesso. Seduta su questa panchina sbirciano i miei appunti e mi soffiano sul collo , suggerendomi ricordi.
Portatevi il costume perché, arrivati in fondo, sulla spiaggia grande di Bibbona sarà bellissimo fare un tuffo e riposarsi un po'.
Se venite in questa pineta, siate gentili. Ascoltatela ed annusatela, respirando profondamente. Poi ditemi se anche  su di voi ha lo stesso effetto di totale armonia, come fosse sempre domenica mattina…easy , like a Sunday morning.
(EN)  Relaxing Bike Ride
We are surrounded by the scent of freshly cut wood and pine resin and, when the wind blows through the branches of the trees, it blends with the smell of the sea.
Early morning biking in the pineta (pine forest), before it is too hot in Summer is a true blessing. Let me take you with me.
The bike ride is a relaxed one, the type you do with an old fashion bicycle, with not need to change gears. To be fair, this ride can be done in many different ways . You'll meet professional cyclists, as if ready for a competition, together with relaxed pensioners with their flip flops on their way to the beach. Just to say that this road is for all tastes and for all types of attitudes.
Today come with me, you You don't need to bring a helmet.  Yes, the strange character wearing a straw hat  waiting for you …it's me.
Now you know what to expect: it is going to be like a walk in the park.
Meeting point at the gate
Meeting point is at the main entrance of the Natural Reserve Il Tombolo,
in Marina di Cecina (Livorno), a great example of biodiversity .   The entrance is right where you see the big wooden gate. It is a 10 KM road between Cecina and Bibbona .
At first, you may think it's a bit crowded, but it is only because you see the equipped sports area on your left.   Trust me, while we ride our bikes it will be like immersing ourselves into a scented wood.
It will be maybe hard to talk, not because of  the touristy noise, rather because the almost deafening noise of cicadas. It is the "Summer music" and I love it.
Do you know that in Italian the cicadas noise is called " frinire"?
Winds & Maritime Pines
Pedaling with no hurry,  you get to Marina di Bibbona beach. Along the way we pass some small bridges and you can stop wherever you want to reach the sea. The openings, like natural corridors on our right, are many and there is no need for road signs. Just look at the sudden blue appearing  between the broad green peaks of the sea pines.
Did you notice their shapes? They are seriously curved inwards. The sea winds blow heavily here and the trees have had to bend to the will of nature to survive. The wind and the trees, as in a couple, are a splendid example of compromise.
Pine roots & needles
Pay attention to the ground: whether you are cycling or you choose to come here to walk, the floor of the pine forest is crossed by huge roots that raise the ground, as if they were in constant motion.    The pine needles, dry and reddish, cover it like a cloak, muffling footsteps and noises, as if snow.
My…Sanctuary
This very  bike ride in this pineta has been my "sanctuary" since always.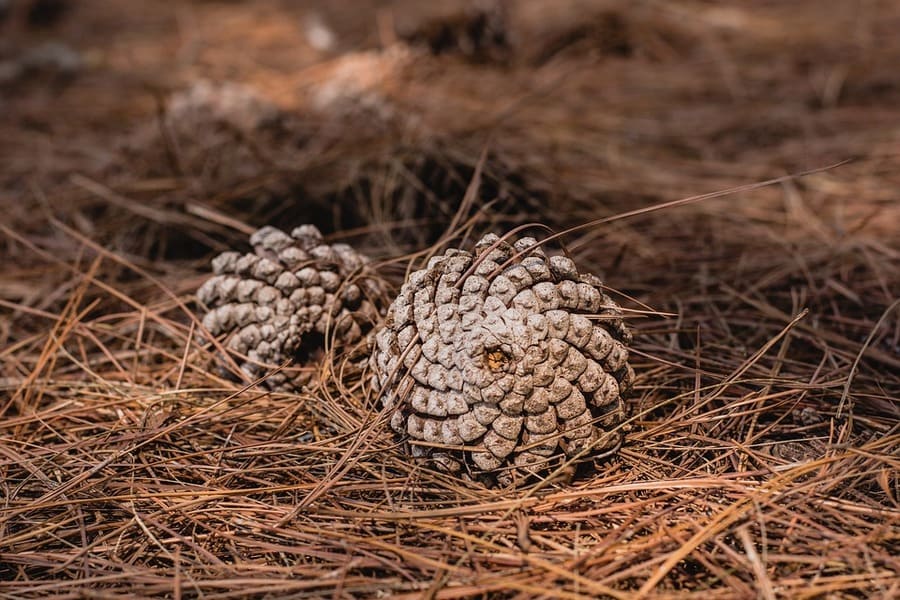 Here I came as a child to collect pine nuts, here I learned how to ride a bicycle, here some of the most important decisions of my life were made, here I brought only the most important people,  here I come with those I love and have loved but are not  with us any longer .   I suspect that the latter are actually there, present,  every time I come back alone, like now.
Sitting on this bench they peek at my notes and gently blow on my neck, suggesting memories.
Don't forget your swimsuit ! Once you get to the end of the ride,  on the large beach of Bibbona it will be great to take a dip and rest for a while.
If you come to this pine forest, be kind. Listen to it and  take in its smell, breathing deeply.  Then,  tell me if it has the same effect of total harmony on you too.
Like a weekend mood  … easy, like a Sunday morning.