How bizarre! Bizzarrie toscane : "Digitated lemons and other curious fruits with strange deformities have always been known in Italian  as " bizzarrie". The finer the citrus collection, the more bizzarrie it contained .
The Medici  family's collection in Florence was undisputably the finest in Europe. Its history dates back to 1537 when Cosimo I de Medici inherited Castello, the family's  rural retreat" ( The Land where the Lemons grow, Helena Attlee – Lovely book strongly suggested for citrus lovers like me)
Citrus can't be grown as commercial crop in Tuscany, but among the terracotta pots lining the alleys of Medici Villas and less famous private gardens in Tuscany, it is still possible to find plants that can be 300 years old. Not all of them are beautiful to look at..
Many of them are insignificant, asymmetric trees with funny appearances. An incredible diversity created through grafting different plants to obtain amazing combinations.
Pummelo & Bizzarria
Villa di Castello in Florence is a citrus paradise. Writings from the XVI century describe the walls of the garden covered with lemons and oranges "like a tapestry". Natural history treaties of that time name eleven rare citrus trees, in addition to numerous "curious fruits". Among them, a particular type of Orange renowned for being extremely sweet and with such a texture that one could bite it like an apple (Pummelo).  Cross/pollination between two of the most ancient species: Pummelo (Citrus maxima ) and Mandarin (Citrus reticulate)  gave life to the ubiquitous Citrus aurantium, our Sour Orange.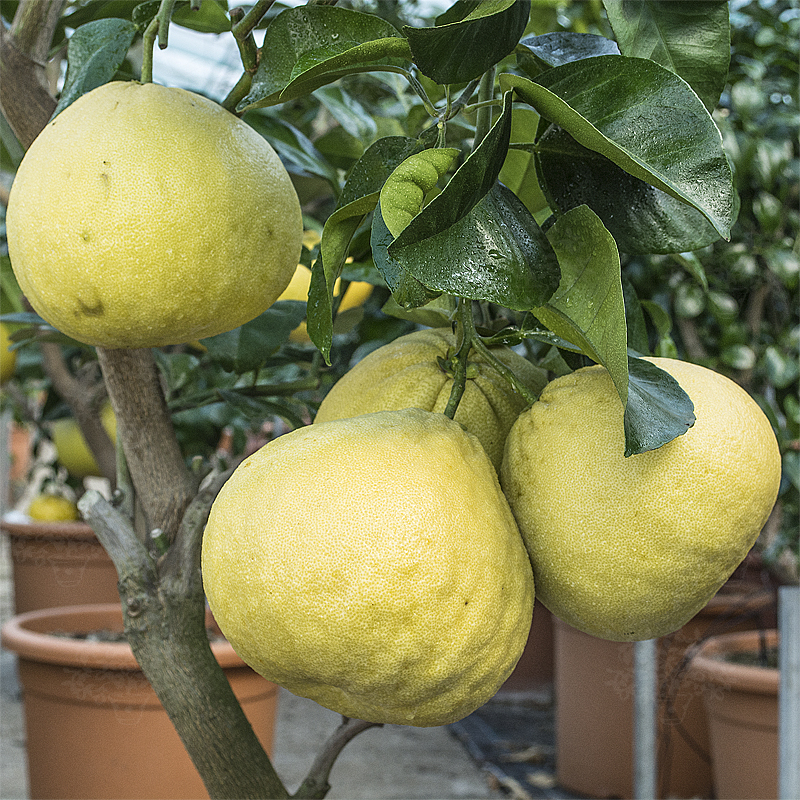 However, the most famous specimen in the Medici collection was la Bizzarria: a chimera produced by grafting together two different citrus species, displaying the characteristics of both sour orange (arancio amaro) and citron-lemon cross (citrated lemon- cedro-limone)
The curator of Castello's collection, took care of restoring some of the diversity lost during the centuries .  In particular, around 1980,  he stumbled across  a  sour orange tree bearing a single twig with leaves totally different from the others on the same plant. He then cut the twig and grafted it onto a sour orange rootstock.
A few years later, the grafted twig had fruit. The resulting tree is small, with twisted ,wrinkled  and striped leaves, just like the original chimera thus combining the characteristics of three plants in one . In order to ensure that the Bizzarria never disappeared again, he created other botanical grafts and took them to Boboli gardens – l' Orto Botanico di Firenze. The Medici citrus trees were saved!
Le Conche
The terracotta pots in Tuscany are called conche and they are typical products handmade in the region. Since the Medici times, the pots of the family's gardens have always been made from argilla, clay, in particular coming from the soil at Impruneta, a village near Florence, famous for manufacturing terracotta.
These containers are perfect for growing all kind of plants and flowers because they are highly porous. This creates the specific and perfect condition for growing citrus, that can't bear being waterlogged. This is why you see them everywhere in Tuscan gardens, terraces, balconies.
When in Tuscany, have a look around the many terracotta factories scattered around the region. Also, do not forget to check local markets. Some artisans may have them too.  Prices may vary a lot from place to place and the beautiful big conche don't come cheap but they truly can add that "Medici touch" to your plants and flowers