( IT) Distillati di bellezza e polveri profumate-  Una storia  Anglo- Toscana  – Il tavolino con lo specchio in camera di mia nonna sembrava uscito da un film dell'800. Il tipico tavolino da toilette con scatoline, profumi e la spazzola per i capelli col manico d'argento.  Tutto intorno c'era un delicato  profumo di rosa.
Era il segreto di bellezza di mia nonna:  mattina e sera  un passaggio sul viso pulito con un batuffolo di cotone imbevuto di acqua di rosa, tonico rinfrescante, classico prodotto di erboristeria.  La bottiglia era in vetro blu cobalto e da quei tempi ad oggi, in casa  mia la bottiglia, oggi in plastica, non è mai mancata.
Il suo nome corretto è  "Acqua distillata alle rose" , come recita l'elegante etichetta sul flacone. Il distillato di Rose è un prodotto piuttosto tradizionale ma è interessante come questo, in bottiglia blu, da sempre presente in casa mia, sia in particolare legato ai miei due cuori: toscano ed inglese.
Ho fatto le mie ricerche e il suo inventore infatti è Henry Roberts, chimico farmacista, noto anche per un'altra creazione molto particolare:  il "Boro Talcum".
La profumata polvere bianca è un altro odore  della mia infanzia, stavolta legato più alla nonna paterna, con cui noi bambini passavamo tante giornate invernali. Il profumo del borotalco dopo il bagno  (una volta alla settimana, sì sono proprio di quei tempi!) rimane indissolubilmente legato ai quei momenti ovattati, in cui ci sentivamo al sicuro e coccolati tra  polvere bianca, asciugamani morbidi e  vapore lasciato sugli specchi dall'acqua calda.
Anglobeceri
Avete mai sentito parlare degli "anglobeceri"? con questo buffo nomignolo venivano chiamati dai fiorentini,  i numerosi  anglosassoni che soggiornarono a Firenze intorno al 1800, l'epoca del Gran Tour.
Mr. Roberts sarà un "anglobecero" da ricordare, perché nel 1843, apre la "Farmacia Inglese", in Via dei Tornabuoni 17 e il "Laboratorio farmaceutico H. Roberts & Co. English and American Chemist and Druggist".   La Farmacia ha un'insegna bellissima e un arredamento ricercato, mobili in mogano e lampadari di alabastro.
Fin dall'inizio il posto richiamava un pubblico elegante ed esigente. La farmacia oltre a prodotti medici inizia così a produrre cosmetici ed anche specialità alimentari provenienti dall'estero e liquori di marca.
Tra i prodotti più di successo nasce appunto l'acqua di rose di mia nonna: una preparazione a base di acqua distillata e ben tre tipi di rose, una miscela di rosa damascena, gallica e centifolia. La ricetta ha un grande successo tra le signore: il distillato idrata, deterge, lenisce e profuma. Non si può chiedere di più!
Borotalco
Ma pare che il maggior successo Mr Roberts l'abbia ottenuto proprio con la polvere bianca profumata ed impalpabile. Siamo nel 1878.
Purtroppo H. Roberts morì in quel periodo ma la storia dei suoi prodotti non finisce con lui. La sua Farmacia passò ad  un altro farmacista inglese, Alfredo Houlston Morgan che unì le forze con un altro farmacista fiorentino, Lorenzo Manetti. E' così che nasce la società che porta i due nomi:  Manetti & Roberts.
Alla fine degli anni '60, la famiglia Manetti mise in vendita l'azienda concludendo la fortunata storia di un sodalizio anglo-toscano, nato a Firenze e nel 1977 lo stabilimento traslocò a Calenzano.
A proposito di Rose
Sulle proprietà dei vari tipi di Rose vi raccontiamo qui . Damascena, Gallica, Mosqueta, Centifolia…ad ognuno la sua.
In Aromaterapia l'olio  di Rosa è il prescelto per combattere stress ed ansia. Sembra che il suo profumo rallenti il battito cardiaco ed aiuti a calmare il respiro.  I nostri antenati Etruschi già utilizzavano il fiore nei loro preparati cosmetici.
Per me, ogni volta che apro  la mia bottiglia blu dal profumo fiorito è l'occasione per un breve viaggio  nella fantasia.
Soprattutto in queste settimane costretti in casa…chiudo gli occhi, inspiro e parto per un viaggio che profuma di petali e ricordi che si confondono tra passeggiate toscane e giardini inglesi.
(EN) Beauty elixirs and Scented powders – An Anglo- Tuscan Story
The little table with a mirror in my grandmother's room reminded me of a movie from the 1800s.  The typical dressing table with boxes, perfumes and a hairbrush with a silver handle. All around there was a delicate rose scent.
It was my grandmother's beauty secret: morning and evening, a cotton swab dipped in rose water, a refreshing face tonic, a classic herbal preparation.
The unmistakable glass bottle was cobalt blue and as far as I remember, it has been always present in my home, even though, these days, the bottle is made of plastic.
The correct name is "Rose distilled water", as stated on the elegant label on the bottle.   Rose distillate is a rather traditional product but it is interesting how this one,  in the blue bottle,  is particularly linked to my two hearts: Tuscan and English.
I did my research.  Its inventor is in fact an Englishman, Henry Roberts, chemist, also known for another very unique creation:  "Boro Talcum". The perfumed white powder is another scent related to my childhood.  This time tied to my paternal grandmother.  As children, we used to spend many winter days with her. T he scent of talcum powder after bathing (once a week, yes I am that old …!) remains inextricably linked to those muffled moments, when we felt safe and pampered among white powder, soft towels and the hot water steam covering the mirrors.
Anglobeceri
Have you ever heard of the "Anglobeceri"?  Florentines used e this nickname to call the numerous British people who visited and stayed in Florence around 1800, the era of the Grand Tour.
Mr. Roberts has been an "Anglobecero" to remember.  In 1843, he opened the "English Pharmacy", in Via dei Tornabuoni 17 and the "Pharmaceutical Laboratory H. Roberts & Co. English and American Chemist and Druggist".  The Pharmacy has a beautiful sign and refined mahogany furniture and alabaster chandeliers. From the beginning, the place attracted an elegant and demanding public. In addition to medical products, the pharmacy thus began to produce cosmetics and food specialties from abroad together with famous spirits.
Among the most successful products was my grandmother's rose water: a preparation made of  distilled water and three types of roses, a blend of damask, gallica and centifolia roses. The recipe had a great success amongst the ladies: the distillate hydrates, cleanses, soothes and perfumes.
Talcum powder – Borotalco
But it seems that Mr Roberts' greatest success was achieved precisely with the fragrant and impalpable white powder.  It was 1878.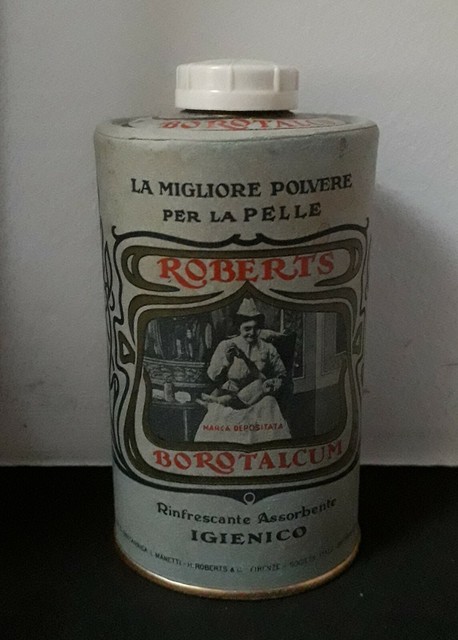 Unfortunately, H. Roberts died in that period but the story of his products continues.  His Pharmacy passed to another English pharmacist, Alfredo Houlston Morgan who joined forces with a Florentine pharmacist, Lorenzo Manetti. This is how the company bearing the two names was born: Manetti & Roberts.
By the end of  1960, the Manetti family put the company on sale, thus ending  the successful story of an Anglo-Tuscan partnership born in Florence. In 1977 the factory moved to Calenzano.
All about Roses
Here we tell you more about the properties of roses.  Damascena, Gallica, Mosqueta, Centifolia … one for everybody
In aromatherapy, Rose oil is the best to combat stress and anxiety. Its scent appears to slow down heart rate and help calm breathing.  Our Etruscan ancestors already used the flower in their cosmetic preparations.
For me, every time I open my blue bottle, its floral scent is the occasion for a short journey into fantasy.   Especially in these weeks when we have to stay home … I close my eyes, breathe in and leave for a journey that smells of petals and memories that mingle between Tuscan walks and English gardens.