(EN) Cypresses,  slender sentinels of Tuscan hills (by Marì R.) : Lonely, like the spear of an errant knight, or  like an army of brave soldiers, cypresses grace Tuscan  landscapes. It is so common in Tuscany that I almost forgot I have a beautiful cypress in my vegetable garden (orto).
Cypresses look like an integral part of Tuscany but they come from elsewhere, as we found out  some articles ago   Several artists have reproduced these elegant trees in their masterpieces.
Benozzo Gozzoli, for instance, painted cypresses all over the hills among castles and farms in his fantastic frescoes " la cavalcata dei Magi".  Carducci, famous Italian poet, wrote an imaginary dialogue between himself and the long line of cypresses running towards Bolgheri in the iconic post-card road.  He called the trees "young giants" and that is what they really appear to be.  It is an amazing piece of poetry.
Cypress is a symbol of our region but not everybody loves it.  Being frequently used to mark cemeteries, cypresses for some, are considered a bad omen.  But we now know the story behind it (link)  and we can't help finding this tree at the same time, beautiful and elegant.
Its aromatic wood is helpful against wood worms and, In ancient times, cypress  was considered a magical tree. It was believed that the main root of this tree runs so deep in the ground as to reach the underworld.
I don't know anything about roots, but I remember that my grandma used to burn few branches of cypress to refresh the air in the living room.
It's true that leaves, small branches and berries (that in Italian are sweetly called …coccole,( similar to cuddles) have a distinctive balsamic  and resinous smell.
Cypress Essential Oil
Cypress essential oil has a refreshing smell with a hint of camphor and resin; it is largely used to prepare perfumes and soaps.
It has important astringent and relaxing virtues. It can act on blood capillaries strengthening them and it can also reduce fluid accumulation (think about cellulite). Have you a purple-bluish bruise ? Add 3-4 drops of essential oil of cypress to 15-20 ml of olive oil. Gently massage the bruise with this mixture and it will lighten and quickly reabsorbed.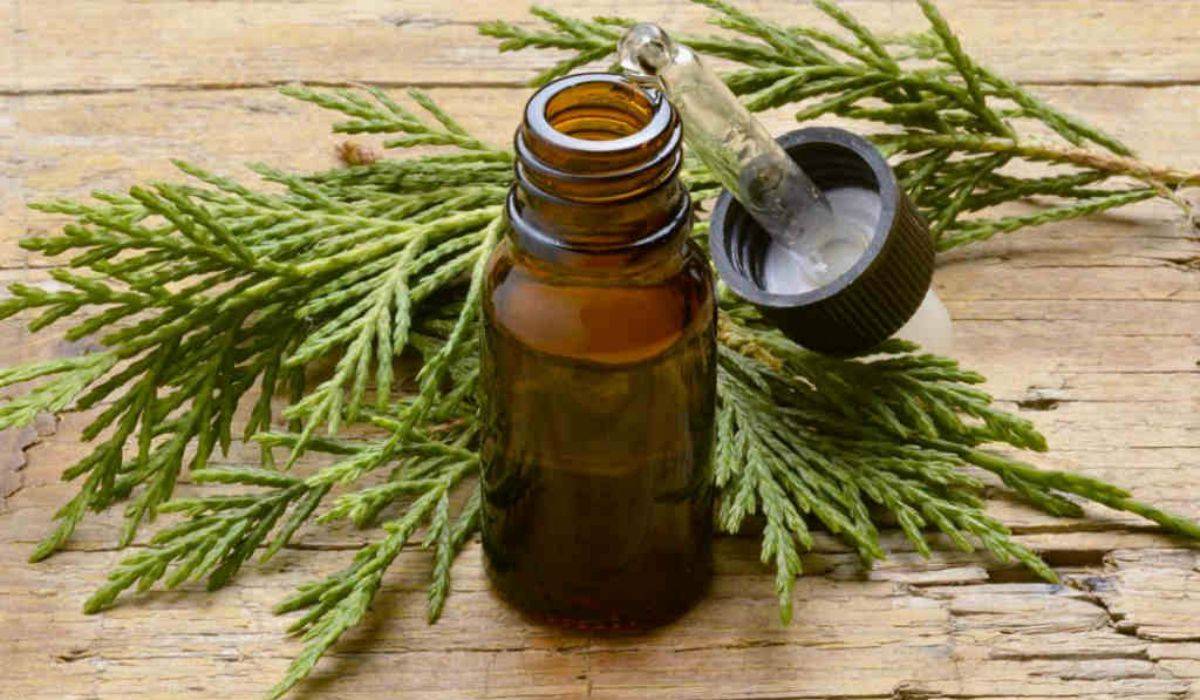 Has it been a long day, and you need relaxing? Take a handful of marine salt, add 7-10 drops of essential oil mixed with a spoon of olive oil, mix it all and add to a warm bath. Relax and breathe in  for at least 10 minutes  to fully appreciate the invigorating and decongestant effects of the oil.
Infused oil
In February and March,  we can pick up cypress' berries to make an infused oil  to use against cellulite and varicose veins.  Pick only the green berries, let them dry for a few days and then crush them.
Take then a large glass jar, put in the crushed berries and cover with abundant oil. You can choose the oil that you want olive oil, sunflower oil…). Leave the jar in the dark for about 30-40 days. Then filter and keep away from direct light and heat. Your Infused oil  is ready to use.
Cypress to fight feeling blue
Now thinking of this very special time we are living. Maybe cypresses can be of some help.  As our sense of smell is directly connected to our brain,  it may by a good idea to ease growing tension with the refreshing, anti- depressant activities of cypress ' essential oil.  Use it for your house as well as a home fragrance!
Our Etruscan ancestors used to burn resin from the tree in the house and during religious ceremonies. Hopefully, some of the ancient magical virtues of this fascinating tree are still working  nowadays. It may be  worth trying  to clear our minds and comfort our souls using the power of nature.
(IT) Cipressi,  lance di cavalieri erranti
Solitario, come una lancia di un cavaliere errante o in file ordinate come un esercito di soldati coraggiosi,  i cipressi sono parte integrante del paesaggio toscano. Sono così comuni che mi dimentico sempre di averne uno nel mio orto. Per altro devono essere sempre stati numerosi in Toscana,  perché diversi mastri pittori li hanno dipinti nei loro capolavori.
Uno per tutti è Benozzo Gozzoli che nel suo fantastico affresco "La cavalcata dei Magi "ha dipinto un paesaggio toscano punteggiato di castelli, chiese, fattorie e cipressi, tantissimi eleganti cipressi.  Carducci poeta italiano  nato in terra di Toscana, in una famosa sua ode "Davanti a San Guido " descrive un dialogo immaginario tra lui ed i cipressi che corrono lungo la strada che conduce a Bolgheri.   Si riferisce ai cipressi che lo videro bambino come " giganti giovinetti" e da come parlano sembrano piuttosto saggi.  È davvero un bel pezzo poetico di fine 800.
Albero magico
Però malgrado i cipressi siano così comuni, molte persone li considera piante di malaugurio perché sono spesso usati nei cimiteri. Sia come sia il cipresso è un albero bello ed elegante ed è anche molto utile. Il suo legno infatti è molto resistente sia ai tarli che al passar del tempo.
Alcuni articoli fa, già avevamo esplorato origini e simbologia di questo suggestivo ,  che, in antichità albero era considerato magico.  Si credeva, infatti,  che la radice principale del cipresso si spingesse così in profondità da arrivare alle porte dell' Ade.  Sinceramente non so molto sulle radici lunghe o corte,  ma ricordo che mia nonna usava bruciare rametti di cipresso per rinfrescare l'aria del salotto o della cucina.  È vero che sia le foglie che i rametti ed i coni, comunemente dette coccole, hanno uno spiccato odore balsamico e resinoso.
Olio essenziale di Cipresso
L'olio essenziale di cipresso si può ottenere da foglie,  rametti e coccole ed ha un profumo rinfrescante con una nota di resina e canfora. È molto usato in cosmesi per produrre profumi e saponi di vario genere.  Possiede notevoli proprietà astringenti e rilassanti.  Agisce anche sulla parete dei capillari sanguigni rendendola più forte, inoltre riduce l'accumulo di liquidi (pensate alla cellulite). Avete un evidente livido blu? Aggiungete 3-4 gocce di olio essenziale di cipresso a 15-20 ml di olio d'oliva  e applicatelo sul livido. In breve tempo si schiarira' e sparirà.
Avete passato una giornata pesante e avete bisogno di rilassarvi? Prendete una manciata di sale grosso e aggiungete 7- 10 gocce di olio essenziale mischiato ad un cucchiaio di olio di oliva.  Provare un bel bagno e rimanete immerse per almeno 10 minuti per poter godere delle proprietà decongestionanti e tonificanti.
Durante i mesi di febbraio e marzo  si possono raccogliere le coccole di cipresso per preparare un oleolito da usare contro cellulite e vene varicose.  Le coccole devono essere ancora acerbe cioè verdi ed ancora fermamente chiuse. Fatele prima asciugare per un paio di giorni e poi procedete a schiacciarle.  Prendete poi  una caraffa di vetro, mettete dentro  le coccole schiacciate e ricopritele con olio.
Scegliete l'olio che più vi aggrada, olio d'oliva, di girasole…  Tenete la caraffa al buio per 30-40 giorni e dopo averlo filtrato avrete il vostro oleolito fatto un casa .
Cipressi e momenti difficili
In questi tempi così particolari, ho pensato che il nostro olfatto è in diretta connessione col nostro cervello.  Potrebbe essere una buona idea ricorrere alle antiche usanze degli Etruschi che utilizzavano resine, ramoscelli e bacche per profumare e disinfettare gli ambienti, così anche come nelle cerimonie religiose.  Potremmo usarlo nelle nostre abitazioni, sfruttando le virtù rinfrescanti ed antidepressive dell'olio essenziale di cipresso.
C'è da sperare che le antiche virtù magiche del cipresso ci siano di aiuto  e possano schiarire la nostra mente e rinfrancare la nostra anima. Tentare non nuoce.