Apple Scent – Profumo di Mela (EN)
Scent of apple pie, sugar and cinnamon. Memories of festive atmospheres, my mother and grandmother at home, women gathered around the kitchen table, kneading and chatting … and the heart warming aroma of baked apples rising from the oven.
For me, the scent of the Apples awakes memories of my family, composed  by many women, almost all of them with splendid  green eyes (a feature that, unfortunately,  has skipped my generation).  Poignant memories of the rare moments together, all reunited in the kitchen, surrounded by  flour and baked apples.
Apple Facts
The Apple tree comes from Asia and it belongs to the Rosaceae family with 2000 different types of apple.
In Italy, it is the most common fruit. We have so many varieties!  You surely must have heard your Italian greengrocer describing their many names: Golden delicius, Red delicius, Stark, Renetta, Granny Smith.
Apples are often praised as a "miracle food" and the old proverb " An apple a day keeps the doctor away" seems to be true.  About 85% of their weight is made of water.  The remaining part consists of carbohydrates and vitamins, including vitamin A, E, C. Moreover, they are extremely rich in important antioxidants, flavonoids, and dietary fibres.
A Tuscan variety: the Apple from Casole
Among the many types, almost by chance, I happened to hear about a variety called  "mela casolana ". A Tuscan fruit, known for its long conservation. It seems that it used to be harvested in Autumn  and it kept very well until April / March. People told me that the unripe fruit was stored in attics above a top covered with straw and used in the kitchen to add flavour to food and drinks and to make desserts.
This type of apple is not too big, has a beautiful red skin with green streaks. There are no intensive crops of this local variety. It is a plant that often grows along the edges of roads, sometime even as a single isolated plant.
Going back to Roman times, apples were also used to produce cider, a slightly alcoholic drink. In particular the "Mela Casolana" was known in the Middle Ages, as it appears to be  mentioned by Boccaccio in its Decameron (1349-1351). The fruit named by the Bocacccio, therefore, is nothing but the apple of Casole d'Elsa (Siena), a city where the "Festa della mela casolana" is also celebrated.
Today this fruit tree is at risk of extinction and it's part of an agricultural biodiversity project, by Regione Toscana,  for the recovery and conservation of indigenous genetic and agricultural resources
My Grandma's  Apple Pie Recipe
Ingredients: 3 apples, 150 gr of sugar, 3 grams of flour, 100 gr of butter, the grated rind of an organic lemon, 2 eggs, a pinch of yeast, a little bit of Vin Santo  and a pinch of salt.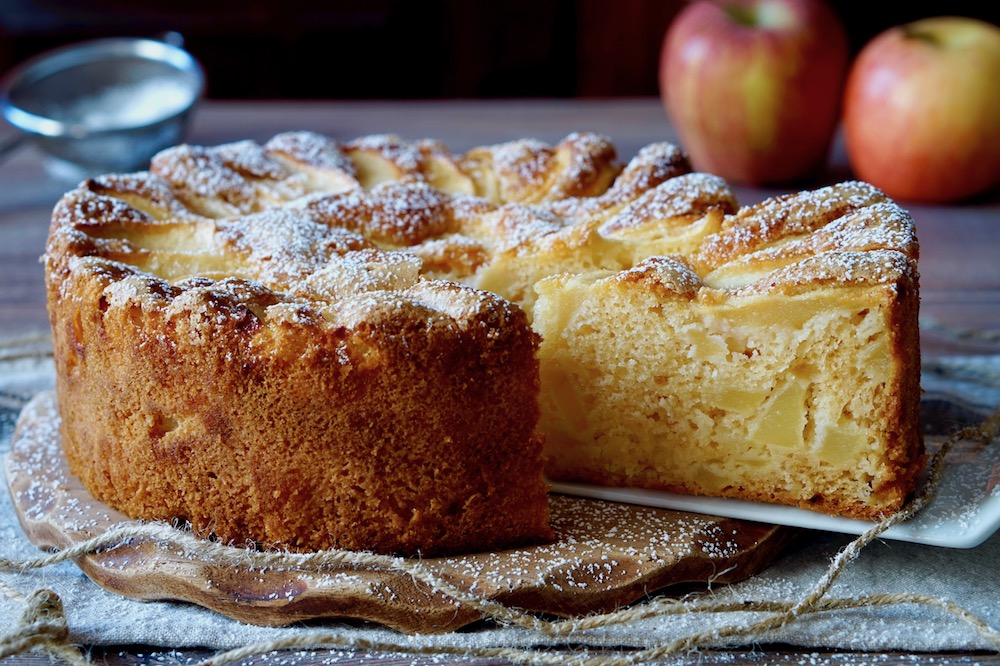 Mix all the ingredients and place them in the pan. At the end, add the apples previously cut into slices which are then brushed with egg white or water and sugar. Everything should be cooked for about 30 minutes at 180-200 °
Natural Remedies- An apple a day keeps the doctor away …
The famous popular saying has some truth: the apple is in fact considered as a "natural drug", a very useful natural remedy for numerous minor ailments.
This fruit contains very little protein and almost  no fats (100 grams of apple have about 40 calories, 10 grams of sugar and large amounts of potassium, vitamin B, citric acid and malic acid). Thanks to its low sugar content, it is well tolerated by diabetics.
Also it contains vitamin B1, which fights lack of appetite, tiredness and irritability, as well as B2 which helps digestion, protects mouth and intestinal membranes and strengthens hair and nails.
Apples should be eaten raw, preferably with the skin (but only if apples are organic) for their astringent action. Cooked, they are an excellent natural remedy for constipation. Specialists recommend it to elderly or convalescent people because it is easily digestible. Finally, if consumed regularly, apples lower the so-called "bad" cholesterol (LDL) and increase the good one (HDL) –
Our healthy recipe: Apple Decoction
The Decoction of apples, is a traditional remedy. Before the arrival of the various decongestant medicines, grandmothers used to prepare this drink for colds and sore throats. We like it a lot and we recommend it even if you are in good shape.
It is a very pleasant and aromatic hot drink on cold evenings. It is also an excellent alternative (naturally sweet and flavored) for those who do not love tea or traditional chamomile. In addition to drinking it hot or cold, the cooked apples left in the pan, can be eaten, alone (sprinkled with a little cinnamon or cane sugar) or can be used for cakes  or as apple pulp puree excellent with yogurt. Perfect for a snack or breakfast.
Moreover, it is very easy to prepare. Here are the instructions to make  2 cups.
Basic ingredients: 1 Apple cut in pieces & 500 ml of water. Boil for about 15 min. To flavor we recommend Mint leaves or other herbs to be chosen according to their properties.
For slow digestions, the addition of Mint is recommended. Mint's active ingredients are a good natural remedy also for  headaches caused by poor digestion and  low blood pressure.
If you fancy a sweetener, In case of a cold, dry cough or sore throat, we recommend  to add one tablespoon of honey to the hot drink.
Beauty bites 
Besides being a beauty ally as part of any diet, apples can also be a secret ingredient for self-production of beauty treatments.
There are many cosmetics on the market, in particular peelings and scrubs, rich in alpha-hydroxy acids (present in fruit). One of the most important is malic acid, which comes from apples.  "Then there is citric acid, present in lemons, and glycolic acid, in sugar cane and mandelic acid, which lately has become very trendy,and it is nothing but an extract of almonds" – as explained in an interview by aesthetic  doctor S. Gronchi.
Malic acid is multi-functional: it has an exfoliating action as well as very strong antioxidant properties. Moreover, it stimulates collagen production.
For those who want to experience apples magical properties, we suggest these simple DIY masks.
Apple Face Masks
Choose ripe apples and make your base by mixing them in the blender until you get a kind of mousse. Alternatively, you can simply scrape the peeled apple with a grater.
Nourishing Mask: for mature or dry skin: add a tablespoon of plain yogurt and 1 teaspoon of honey. 15 minutes on the face before rinsing with warm water.
Illuminating Detox Mask: add lemon juice, mix the two until a cream is obtained. Apply on the face for about 15 minutes and rinse.
Detox Apple Body Peeling
A couple of tablespoons of apple pulp and grinded seeds, one teaspoon of almond or argan oil, two teaspoons of oatmeal (for its delicate exfoliating action), a few drops of lemon juice and here it is your natural purifying peeling able to detox your skin!
Please note: All the natural remedies mentioned cannot be stored. They must therefore be prepared and used immediately. From table to  skin, for maximum effect.
Profumo di Mela (IT)
Profumo di torta di mele, cannella e zucchero, aria di festa, mamma e nonna a casa, donne riunite intorno a una tavola impastando e chiacchierando…e il profumo di mela che sale dal forno, riscaldando il cuore.
Per me, il profumo della Mela evoca il ricordo della mia famiglia fatta di tante donne, tutte o quasi dagli occhi di uno splendido verde (che ha saltato la mia generazione) ed il ricordo, a tratti struggente, di alcuni rari momenti tutte insieme, tra farina , spezie e mele al forno.
Notizie
Il Melo è un albero che viene dall'Asia, appartiene alla famiglia delle  Rosaceae e,  tra le sue varietà, si contano ben 2000 tipi differenti di mela.
In Italia, è sicuramente il frutto più diffuso.  Ne abbiamo tantissimi tipi, sicuramente avrete sentito il vostro fruttivendolo sciorinare i tanti nomi, tra cui : Golden delicius, Red delicius, Stark, Renetta, Granny Smith.
Considerata, a ragione veduta, da sempre sinonimo di salute e benessere, la mela è composta per circa  l'85% del peso da acqua. La restante parte è formata da carboidrati e da Vitamine, tra cui la vitamina A, E e  C.
L'antica Mela Casolana
Tra i tanti tipi mi è capitato di sentir parlare,  un po' per caso, della pregiata "mela casolana".  Un frutto tutto toscano, noto per la sua lunga conservazione. Pare si raccogliesse in autunno e si mantenesse benissimo fino ad aprile/marzo.  Addirittura si dice che il frutto, raccolto acerbo, venisse conservato in soffitte sopra un piano di paglia e utilizzato in cucina per insaporire primi, secondi e, ovviamente, nei dolci.
Questa mela non è troppo grande,  ha una buccia di un bel colore rosso con striature verdi.  Di questa varietà locale non ci sono colture intensive. Si tratta di una pianta che cresce  spesso lungo i margini delle strade anche come singola pianta isolata.
Andando indietro nel tempo, ai tempi dei Romani, la mela  era utilizzata anche per produrre idromele o sidro, una bevanda leggermente alcolica. In particolare la mela casolana è nota nel medioevo ed è citata dal Boccaccio nella quarta novella della terza giornata del Decamerone (1349-1351). Il frutto nominato dal Bocaccio, dunque, non è altro che la mela di Casole d'Elsa (Siena), città dove si celebra anche la "Festa della mela casolana".
Oggi il "melo casolano", è un albero da frutto a rischio di estinzione.
Per questa varietà locale in via di estinzione, vi è un progetto di recupero, conservazione e valorizzazione delle risorse genetiche e agricole autoctone, nell'ambito delle biodiversità agroalimentari, da parte della Regione Toscana.
Ricetta della Torta di Mele della mia nonna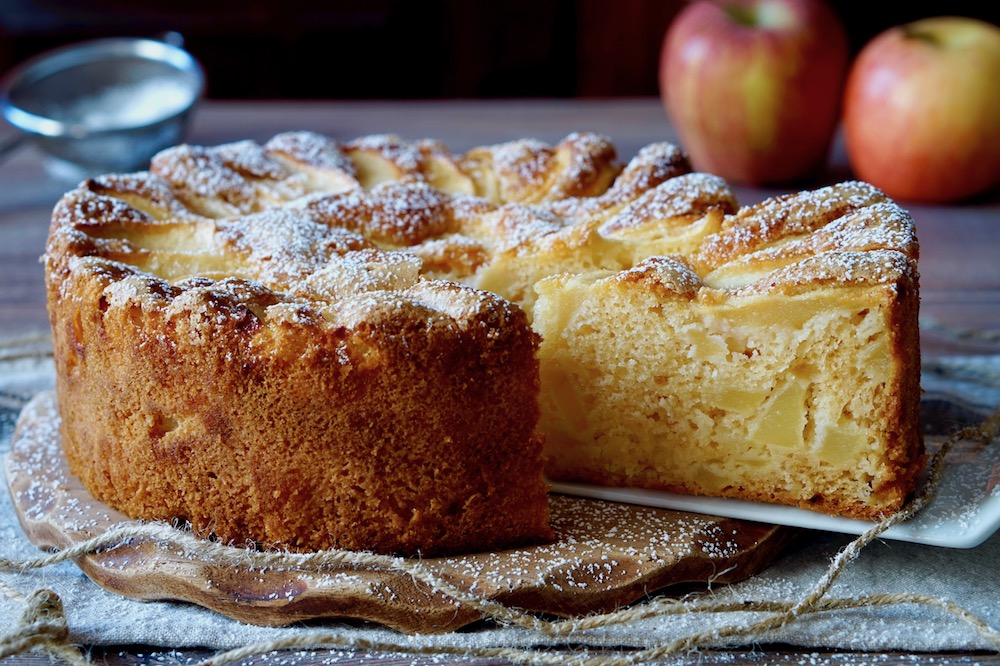 Ingredienti: 3 mele, 1 etto e mezzo di zucchero, 3 etti di farina, 1 etto di burro, la buccia grattata di un limone (ovviamente non trattato) 2 uova intere, 1 presa di lievito, un pò di Vin santo (a occhio)  e 1 pizzico di sale.  Amalgamare tutti gli ingredienti e disporli nella tortiera.  Aggiungere alla fine le mele tagliate a spicchi sottili che vanno poi spennellate con albume o acqua e zucchero. Il tutto va fatto cuocere per circa 30 minuti a 180-200°)
Rimedi Naturali- Una mela al giorno leva il medico di torno…
Il celebre detto popolare ha più di un fondamento di verità: la mela è considerata infatti come un "farmaco" della natura, un utilissimo rimedio naturale per tantissimi problemi.
Bisogna dire che, in effetti, questo frutto contiene pochissime proteine e i grassi sono quasi assenti, (100 grammi di mela hanno circa 40 calorie, 10 grammi di zuccheri e grandi quantità di potassio, vitamina B, acido citrico e acido malico).
Inoltre è presente la vitamina B1, che combatte inappetenza, stanchezza e nervosismo e la B2 che facilita la digestione, protegge le mucose della bocca e dell'intestino e rinforza capelli e unghie.
Ma non finisce qui. Grazie ai suoi pochi zuccheri, è ben tollerato dai diabetici.
Generalmente la mela si mangia cruda, meglio se con la buccia (ma solo in caso di mele bio) con un'azione astringente. Se invece è consumata cotta, è ottimo rimedio naturale contro la stipsi. Gli specialisti la consigliano alle persone anziane o convalescenti perché è facilmente digeribile. Infine, se consumate regolarmente, le mele abbassano il colesterolo cosiddetto "cattivo" (LDL) e aumentano quello buono (HDL) –
La nostra ricetta salute: Decotto di mele
Il Decotto di mele, è un antico rimedio della nonna. Prima dell'arrivo dei vari medicinali decongestionanti, le nonne lo preparavano contro raffreddore e mal di gola. A noi piace molto e lo consigliamo anche se siete in ottima forma.
Si tratta di una bevanda calda piacevolissima nelle serate fredde. E' anche un'ottima alternativa (naturalmente dolce ed aromatizzata) per chi non ama troppo il tè o la tradizionale camomilla. Oltre a berlo caldo o freddo,  possiamo poi mangiare le mele cotte rimaste, da sole (cosparse con un pò di cannella o zucchero di canna, a chi piace) oppure usarle per la preparazione di dolci o come una purea di polpa di mela da aggiungere allo yogurt. Perfetta a merenda o a colazione.
Il Decotto è facilissimo da preparare. Ecco le istruzioni per 2 tazzine.
Ingredienti di base  :  1 mela & 500 ml di acqua. Per aromatizzare consigliamo foglioline di menta o altre erbe a seconda dei bisogni. Infatti la scelta va fatta in base alle caratteristiche  delle singole piantine.
Per esempio, per digestioni difficili o lente, l'aggiunta della menta è consigliata. Anzi, i principi attivi della menta risultano un buon rimedio naturale anche per il mal di testa causato da cattiva digestione e della pressione arteriosa troppo bassa.  Un'altra aggiunta che potete fare ai due ingredienti di base consiste in un dolcificante. In caso di raffreddore, tosse (soprattutto se secca), mal di gola… potete aggiungere un cucchiaio di miele all'acqua del decotto.
Morsi di Bellezza 
La mela, oltre ad un alleato di bellezza se parte della dieta,  può anche essere un segreto per l'auto produzione di alcuni prodotti . Ci sono sul mercato molti cosmetici, in particolare peeling,  ricchi di alfa-idrossiacidi (presenti nella frutta). Uno dei più importanti è l'acido malico, che proviene appunto dalle mele. "C'è poi l'acido citrico, presente nei limoni, e l'acido glicolico, nella canna da zucchero e l'acido mandelico, che ultimamente va molto di moda, non è altro che un estratto delle mandorle»- spiega la dottoressa Sabrina Gronchi, medico estetico in una delle sue interviste.
L'acido malico è molto utile perché è multi-funzione: ha azione esfoliante ma ha anche fortissime proprietà antiossidanti e stimola la produzione di collagene.
Per chi vuole sperimentare le magiche proprietà della mela noi suggeriamo questa semplice  maschera fai da te.
Maschere alla Mela
Scegliete delle mele non troppo acerbe e fate la vostra base frullandole nel frullatore fino ad ottenere la consistenza di una mousse. In alternativa potete semplicemente grattare la mela sbucciata con la grattugia.
Maschera Nutriente: per pelli mature o secche: aggiungere un cucchiaio di yogurt bianco e 1 cucchiaino di miele. 15 min stesa sul viso prima di risciacquare con acqua tiepida.
Maschera Illuminante e Detox: aggiungere suco di limone, mescolare i due fino ad ottenere una crema omogenea. Stendere sul viso per circa 15 min e risciacquare.
Peeling Corpo Detox alla Mela
Un paio di cucchiai di polpa di mela ed i noccioli tritati, un cucchiaino di olio di mandorle o argan , due cucchiaini di farina d'avena (azione esfoliante delicata), qualche goccia di succo di limone ed ecco un peeling purificante in grado di disintossicare la pelle.
Tutti i rimedi naturali citati non si conservano. Vanno quindi preparati ed utilizzati subito. Dalla tavola alla pelle insomma, per il massimo effetto .