Bionda Val d'Orcia : Coming back to Tuscany after many years abroad meant to me an agenda full of appointments, places to discover and locations to see again after a long time. Val d'Orcia was on top of my list as, for years, I had in mind an American movie we used to watch with my students during  my Italian lessons as one of our favourite Listening activities.
The movie was "Shadow of the Sun" and the setting was the amazing Rocca d'Orcia and Radicofani.
Deciding to spend a few days in this paradise was an excellent idea: this happened back in August. Cities were boiling hot , while, in the countryside, a warm breeze made everything much nicer.
Bionda Val d'Orcia
Finally there I was in the beautiful Radicofani, after driving from Siena along a breathtaking road cutting through endless golden fields.  Hills with iconic cypress seemed to have been arranged on purpose for some photo shoot about to take place.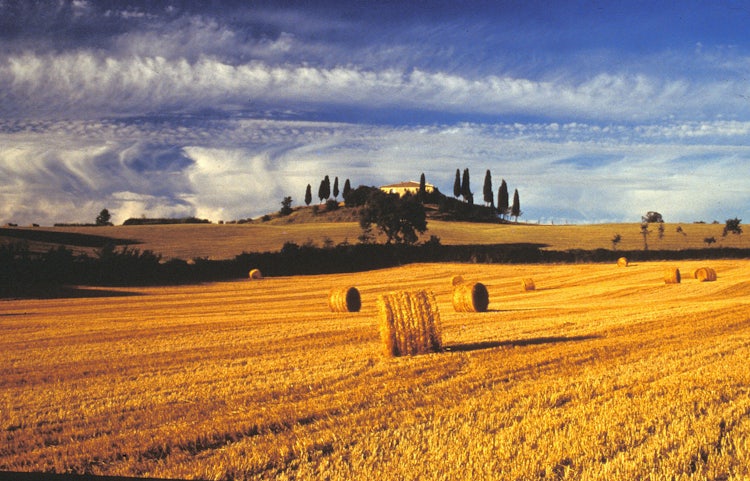 I was surrounded by shades of yellow an, while taking  pictures with a friend of mine, I realized how Val d'Orcia panorama had her very same  blonde colour (bionda, as we say in Italian) .  Val d'Orcia, like a blonde "damsel" surrounded by fortresses: the imposing fortified constructions scattered around the valley (Rocca d'Orcia and  Rocca di Tentennano, Rocca di Radicofani , a fortified valley)
Speaking about movie settings…suddenly we saw a couple of horses in the middle of a huge empty field. One black, one white…a picture of pure perfection. Really  post-card Tuscany; one could almost think it was all staged.
Radicofani: la Rocca , il Bosco e il Ristorante
My visit began in Radicofani with its imposing Rocca, also known as la Rocca di Ghino di Tacco: a proud knight that never surrended to Siena's power. Considered a bandit  by many, Ghino di Tacco fought against Siena to defend his independence until he died.
The building today  houses the Museo del Cassero open to visits . One must go all the way up the timeless construction as the view you have on the top is something to remember forever, together with the feeling of stepping back in centuries.
No one would have blinked if a soldier in armour would have suddenly appeared in the courtyard. You can breathe history in the wind blowing among the Rocca's alleys.
Coming down the Rocca we sat on a bench under the trees and simply enjoyed the beautiful panorama opening up in front of us. I felt I could stay there for hours. There was no need to talk about anything. Is this maybe  a form of meditation?
South of Radicofani there is  a romantic place, called   Bosco Isabella . It is a garden created  by designer Odoardo Luchini who dedicated it to his wife, Isabella.
Today this green space is property of the city and its entry is free.
Walking up and down in Radicofani made me (as usual) very hungry. Where to eat? By chance we stepped in to La Grotta restaurant and we couldn't choose a better place!
The staff is extremely friendly and the size of the dishes super generous! The lady, who I believe was one of  the owners, joked with me about the size of my piatto di Pici all'aglione…she ironically  called it " a pediatric size". Did I enjoy it? Even if it arrived after a cold meat tray (tagliere di antipasti toscani) that was enough for a battalion, everything was so good that there were no leftovers …. We even used "la scarpetta" (famous colloquial Italian expression describing cleaning every trace of sauce from a plate with a piece of bread, that reminds of a little shoe: scarpa, scarpetta)
Bagno Vignoni
If Radicofani is beautiful and with history coming to life at every corner, my next visit to nearby Bagno Vignoni had a different kind of fascination.
Bagno Vignoni is located along the famous Francigena Road, the  pilgrimage route to Rome,  on the hill overlooking the valley, today UNESCO World Heritage site. Its central watery-square is absolutely unique.  Bagno Vignoni's  natural thermal waters, with a temperature of about 49° C,  originate from a 1000-meters-deep spring and are rich in precious elements: minerals, salts, calcium, iron carbonates, sodium sulfate and magnesium with their beneficial and therapeutic effects on bones, joints, skin and the circulatory system
The hot springs are famous for health and "benessere" since Roman times; many famous people have enjoyed their benefits through centuries (Santa Caterina, Lorenzo il Magnifico, just to mention a few)   and still today, Bagno Vignoni  represents one of the best locations for Thermae , Spas, Resorts  and the modern idea of wellness.
However, you can enjoy hot springs even without checking into an expensive resort. Don't forget   to take with you swimsuit and towel if you come outside the peak hot season, Autumn is the best time (in August I saw people bathing in the hot waters but this,  to me,  is not an option).
Una Piazza d' Acqua / A Watery Square
The magic  piazza is, of course off-limits for bathing, but you can enjoy thermal waters at Parco dei Mulini, just a few steps away from the town centre.
The Piazza is surrounded by a few elegant and characteristic cafès and restaurants together with an old charming herbal shop and a very special book store, LibrOrcia, where you have the impression of stepping into someone's house rather than a store.
A very well stocked bookstore that, I am sure, must have been created by a romantic book lover . Every detail inside suggests  eye for details and good taste.
The herbalist Shop is called "Hortus Mirabilis" and has a  wide selection of plants, herbal preparations, hydro-alcoholic dyes and essential oils.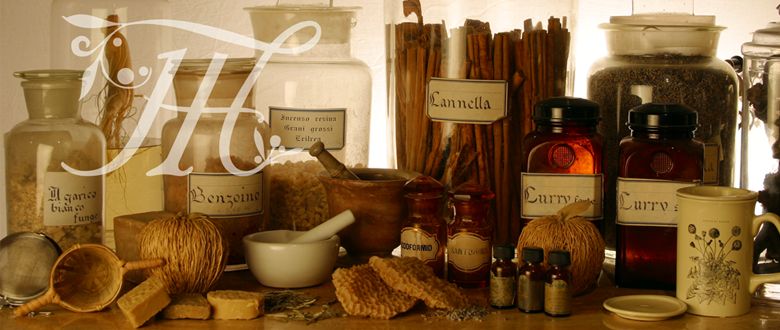 The unique fragrance one smells as soon as you get in, is something I still remember. It was not a common scent, rather a undefined mix of dried herbs and oils , the same experience probably pilgrims and travelers had centuries ago when  searching for herbal medicines at monks workshops.
With my passion for old pharmacies and herbal shops I spent a lot of time among the herbalist's jars and shelves at Hortus Mirabilis and, when I finally  came out, it was time for aperitivo.
We sat in a pretty piazzetta near Hotel Posta Marcucci in a lovely mint green bar and ordered a Spritz with a Tagliere di affettati . The evening was one of those perfect moments one tends to remember for long time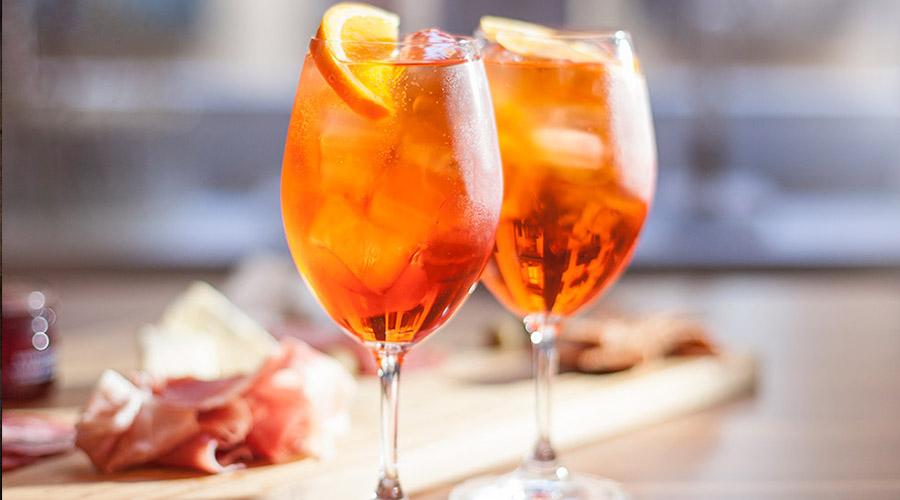 The café, next to the Hotel, is called "Il Barrino" and it  is a two floors house transformed during the years  in a charming lounge bar with mint green walls , chic interior design, a great selection of cocktails and music. In the evening the place serves aperitif and snacks and later on wine and cocktails until 11 o'clock.
Spa lovers?
This is definitely the place for you! You can book spa treatments and enjoy the pools as a day guest at Adler Thermae Toscana or at Albergo le Terme or Posta Marcucci. The last one also offer Pool under the Stars – Bagno sotto le Stelle : a unique experience available  twice a week (Wednesdays and Saturdays 9 PM /midnight). Immersed in the thermal waters of the Hotel outdoor pools you can bath under the view of the Rocca lit against the pitch black sky.
Best time to visit? Of course when the summer season is over. You can stroll through the enchanting cobblestone streets without having to push your way  through tour groups and you can enjoy the hot waters with a cooler temperature outside …pure bliss.