(EN) SANSEPOLCRO: A sensory experience ( by Mari' Regoli )  –  It is a clear warm day, spring like you may say, perfect for a sensory experience. Chiara and I are driving towards Sansepolcro a small town close to Arezzo.
Here at the beginning of the 15th century, Master Piero della Francesca, the great painter, was born and some of his most celebrated masterpieces ( the Resurrection and the Misericordia, for instance) are kept in this village.
But today, even if I love Piero's art very much, with Chiara we have a very different target. Piero would have enchanted us with his colours, but the museum we are going to visit today will wake up other senses. You are curious, aren't you… ???
The Museum of Herbs
You see, we love art but we love officinal herbs too; so following this passion we are going to visit Aboca Museum in Sansepolcro. The elegant 17th century Palazzo Bourbon-del Monte has been home to a noble family for centuries; quite recently it has been restored and now it is a beautiful location for this museum.
A walk from Porta (city gate) Fiorentina to Via Aggiunti, where the museum is, usually takes 3-4 minute, more or less, but with us today we need half an hour, at least. There are shops to look at, elegant buildings to appreciate and menus to check .
Anyway, we finally arrive in front of the museum. Inside a very polite lady gives us our tickets and tells us we are welcome to touch everything we want… and this is quite odd for a traditional museum!
We climb the stairs and the walls are decorated with beautiful botanical printings from different historical periods. Then we enter the first room called ' la Sala dei Mortai' (the Room of Mortars).
Of course it's full of mortars, all made with different materials and in different sizes. But what is fascinating is that each one is full of leaves and/or flowers; so we can deep our hands into these 'scented basins ' and smell different herbs.
Scents & Memories
While smelling Sage I am thinking about  prehistoric men and how they worked out the many  uses of wild herbs. At the very beginning, instinct must have guided them, I suppose.
Anyway, it's absolutely fantastic to wander from one room to another: from the mortars' room to that of pottery, and then the room of the glass alembics, all beautiful and interesting.
We keep following a trail of perfumes and immediately, memories begin to awaken. Here is a tray of star anise, that reminds me of my grandpa who loved the anisette; there is sage, that my granny used for cooking and also for oral hygiene.
It's unbelievable how many memories may be linked to a simple smell. But we reach the apotheosis, if you don't mind me using such a word, in the "Herbs Room".
The Herbs Room
This is a rectangular room lighted by a single window, with a large fireplace, pervaded by endless perfumes and aromas coming from herbs hanging everywhere. Medicinal and aromatic herbs are on trays, boxes, large and small baskets, but also hanging in bunches from the ceiling that is completely covered by them.
It's marvelous; we are enthusiastic. We put our hands in one basket, then we sink into another, Rosemary, Lavander, Mint ….We could easily spend all day in here!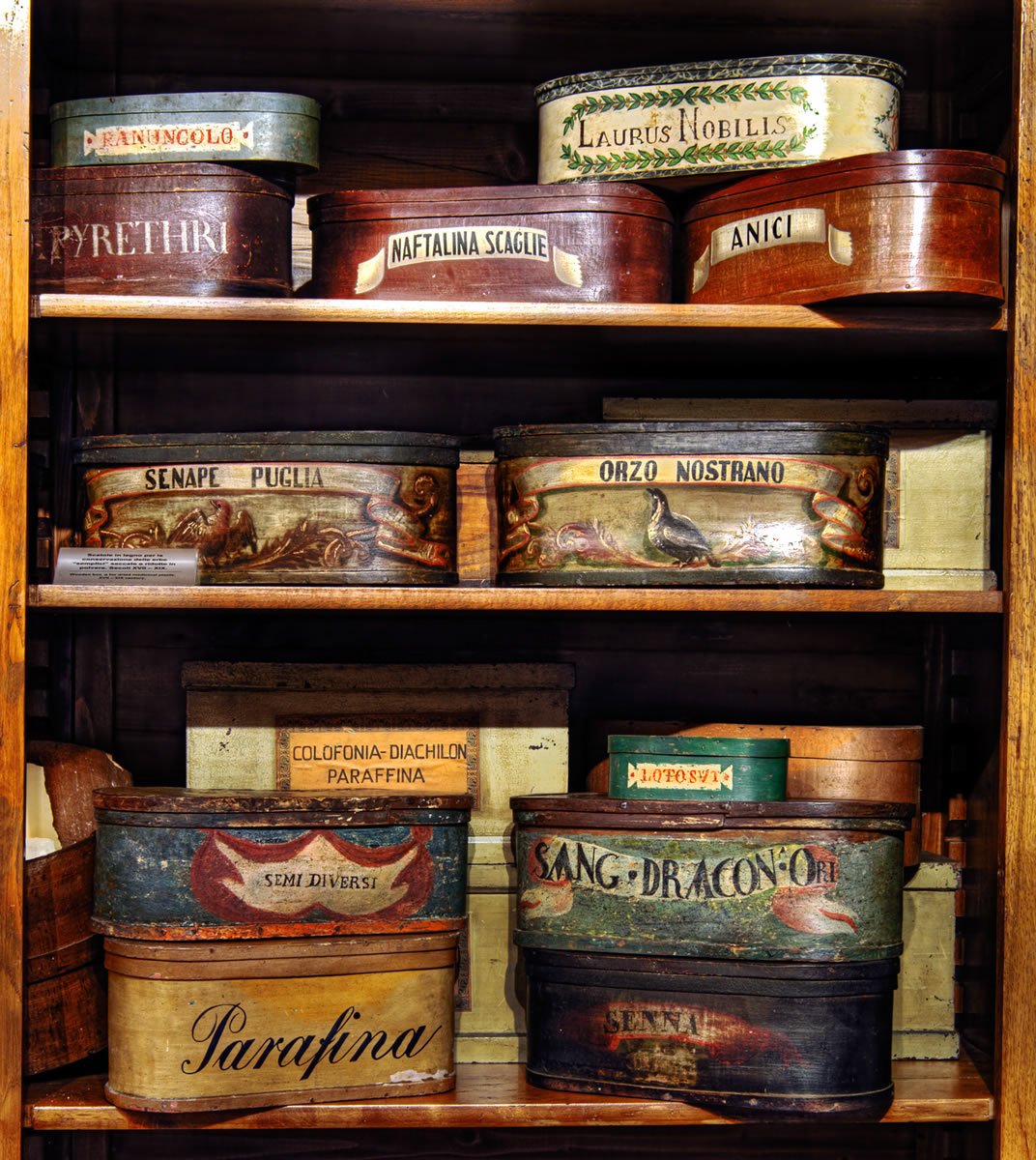 However, after a while, we move to the next room, where we find the reconstruction of an old apothecary's laboratory with lots of unusual copper alembics; then there is a phytochemical lab, dating back to 1800. It is clear that by this time, the magic of herbalism had given way to science.
The Small Room & Poisons
All of a sudden, Chiara opens a small door and …ops, she disappears! Surprise, this is the very door we saw on the historical pharmacy close to the 'Mortars room'.
This is the famous 'small door' that every chemist secretly entered to go to the lab to prepare some remedy.
The hopeful client remained respectfully and suspiciously outside, not daring to enter the door and waiting for him to ' work the magic of the herbs'. By the way, we have also seen the room of poisons closed by a small strong iron gate, decorated with a metal snake, but fear not: we have now all the antidotes in our hands.
For those who, like us, are passionate about herbalism, perfumes and essential oils, this route off the tourist itineraries is a must-see. Sansepolcro itself also is a delightful village to discover and a perfect destination for a day in a Tuscany out of the beaten track, this time in the name of emotions and olfactory experiences.
Un'esperienza sensoriale: (IT)
In una bella giornata limpida e tiepida da sembrare già Primavera, perfetta per un'"esperienza sensoriale", Chiara ed io abbiamo deciso di visitare Sansepolcro, un paese non lontano da Arezzo.
Qui agli inizi del 1400 nacque il Maestro Piero della Francesca, e qui sono custodite alcune delle sue opere più conosciute (si pensi alla Resurrezione e al polittico della Misericordia).
Però malgrado il mio amore per la pittura di Mastro Piero, oggi con Chiara abbiamo un obbiettivo molto differente. Piero ci avrebbe affascinato coi suoi colori ed i volti delle sue donne imponenti ed enigmatiche, invece il museo che vogliamo visitare stuzzicherà di certo altri sensi . Curiosi vero?
Oltre all'arte noi amiamo anche le erbe officinali ed è proprio seguendo questa passione che vogliamo andare a Sansepolcro per visitare il museo di Aboca.
Il Museo delle Erbe
L'elegante seicentesco Palazzo Bourbon del Monte, per secoli residenza gentilizia, è stato in anni recenti finemente restaurato per diventare la splendida sede di questo museo.
Da Porta Fiorentina a via Aggiunti, dove si trova il museo, sarebbero sufficienti 3 minuti a passo lesto, ma…se state seguendo noi due impiegherete almeno mezz'ora. Ci sono tante vetrine da guardare, bei palazzi da ammirare e menù da sbirciare.
Comunque anche se lentamente arriviamo di fronte al museo. All'interno una gentile signora stacca due biglietti e ci invita ad andare e dice che possiamo anzi che dobbiamo toccare tutto, e questa è una novità per un museo.
Le due rampe di scale sono decorate con bellissime stampe botaniche prese da erbari di varie epoche.
Le adoro e sono a mio modesto avviso delle vere e proprie opere d'arte. La prima stanza che ci si apre davanti è 'la sala dei mortai'. Manco a dirlo è piena di mortai di vari materiali e varie dimensioni.
E meraviglia… alcuni mortai sono colmi di foglie e fiori; si possono così affondare le mani in questi 'catini profumati' ed odorare le varie erbe.
Profumi & Ricordi
Annusando il profumo familiare della salvia mi viene di pensare a come avrà fatto l'uomo primitivo a scoprire le proprietà medicamentose delle erbe selvatiche. All'inizio non può che aver seguito il suo istinto, ritengo. Comunque è fantastico passare dalla sala dei mortai a quella delle ceramiche,
bellissime, a quella dei vetri, anch'essi bellissimi, e poter seguire anche un sentiero di odori che poi risvegliano ricordi.
C'è L'anice stellato che mi ricorda mio nonno che amava tanto l'anicetta, la salvia poi mi ricorda che mia nonna la usava in cucina, ma anche per l'igiene della bocca.
È davvero incredibile quanti ricordi possono scatenarsi da un solo profumo.
La Sala delle Erbe
Però L' apoteosi, se mi perdonate la parola altisonante, si raggiunge nella 'sala delle erbe'. Questa è una stanza rettangolare illuminata da un singola finestra e dotata di un ampio caminetto ed è pervasa da una miriade di odori differenti che emanano dalle erbe.
Queste sono non solo raccolte in vassoi, scatole, ceste e cestini, ma pendono a mazzi dal soffitto che ne è completamente ricoperto, è assolutamente bellissimo! Noi siamo entusiaste. Affondiamo le mani in grandi ceste piene di rosmarino, di melissa, di lavanda…vorrei restare lì tutta la mattinata!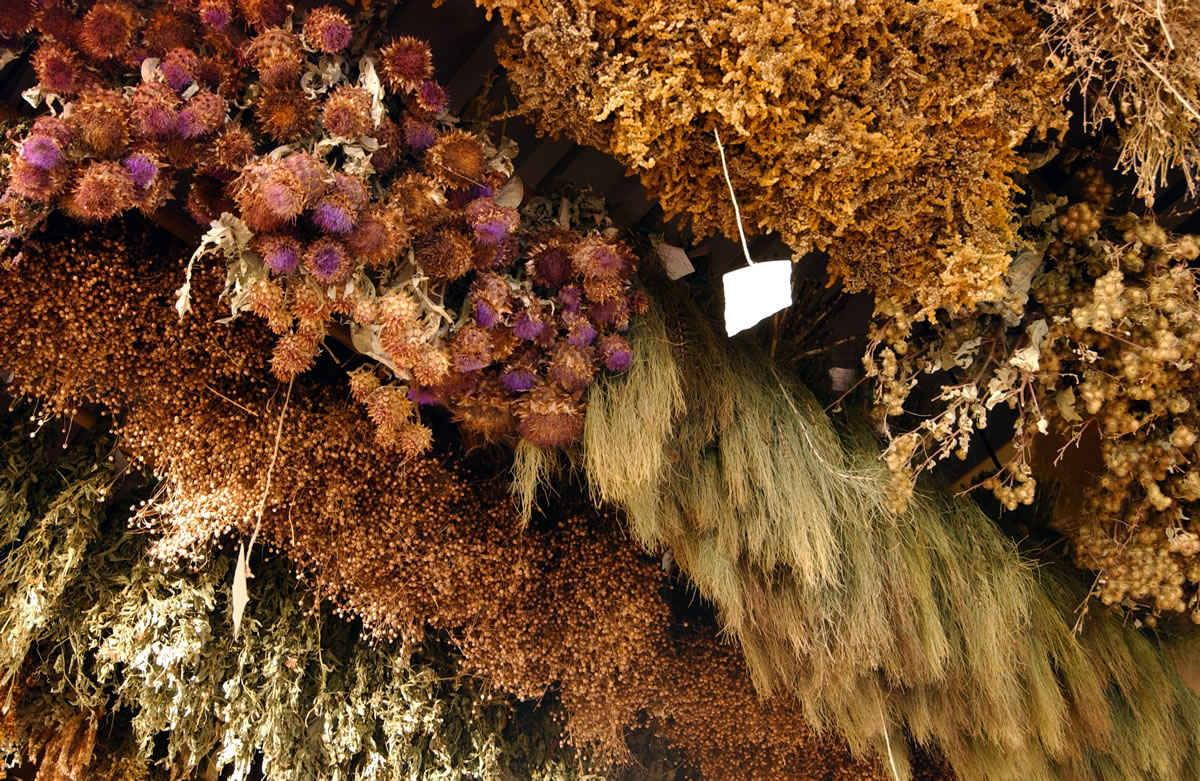 Dopo un bel po' di tempo, passiamo nella sala attigua dove è stata ricreata una spezieria, un antico laboratorio pieno di alambicchi di rame, di seguito troviamo un laboratorio fotochimico dell'800 mi verrebbe da pensare, qui la scienza ha preso il posto della magia quasi del tutto.
La porta piccola & i veleni
A questo punto Chiara prende una porticina e scompare… Oh, ma guarda era quella che avevamo visto nella farmacia accanto alla sala dei mortai! Quindi questa è la porta piccola, quella che il farmacista/speziere infilava quasi di nascosto per andare a preparare qualche medicamento nel suo laboratorio.
L'acquirente speranzoso restava in rispettoso e sospettoso silenzio in attesa che 'la magia delle erbe' fosse pronta. Abbiamo anche visto la stanzetta dei veleni chiusa con un robusto cancelletto di ferro, ma non c'è d'aver paura: abbiamo già tutti gli antidoti in tasca.
Per chi, come noi, è appassionato di erbalismo, profumi ed oli essenziali, questo percorso fuori dagli itinerari turistici è una tappa da non perdere. Sansepolcro è anche un delizioso villaggio da scoprire e quindi una meta ideale per una giornata in una Toscana diversa, all'insegna di emozioni ed esperienze olfattive.